Arvada Trivia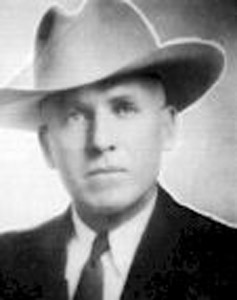 Clarence Bunch Fugate was born on July 19, 1887 in Lead Hill, Arkansas. In a few years the Fugate family moved to Eureka, Kansas where Clarence spent in youth. Arriving in Colorado in 1915, twenty eight year old C.B., as he was by then known, setttled in Lamar. The next year he joined the Colorado National Guard and was soon sent to the Mexican boarder to fight the forces of Villa and Zapata durning the Mexican Revolution. C.B. also served his country in the Colorado 157th Infantry in Europe durning World War I. After the war, Fugate returned to Colorado and bought a home in Pleasent View. He also ran a cattle ranch in Jackson County in northern Colorado. A life long bachelor, Fugate came to be known as a kind, giving man in the community. During the dark days of the Depression, needy families in Pleasent View found more then once that their grocery bill had been paid for by an unknown benefactor. During winter months a pile of coal was dumped into the Fugate yard every week. Neighbors helped themselves. I am certain someone out there remembers the generosity of C.B.Fugate. On July 4th, 1940, the Undersheriff announced his campaign for the office of Jefferson County Sheriff. By early October it looked as if C.B.Fugate was the man to beat in the upcoming election. Then came the night of October 12.
Around three a.m. Arvada night watchman William Benson heard shots ring from current 7512 Grandview Avenue where the Columbine Cafe and Lee's Tavern stood. Benson went to investigate and found that Jack Carleton, tavern owner, had shot customer Arthur 'Red' Markham. In a booth was Carleton's wife, Marjorie. Nobody except the two Carleton's and Markham know what led to the shooting, so the motive is lost to history. Once Benson looked inside the tavern door, he found a still armed Carleton.
"I've got six bullets," Carleton told Benson. "And I'll take six coppers before you get me."
For the full yourhub article, click here.